Medication and Heart Disease
Online Dental Education Library
Our team of dental specialists and staff strive to improve the overall health of our patients by focusing on preventing, diagnosing and treating conditions associated with your teeth and gums. Please use our dental library to learn more about dental problems and treatments available. If you have questions or need to schedule an appointment, contact us.
Dental Library
Get started by either searching for a dental term or procedure in the search box or view some of our more popular articles or videos below. Once the articles open, please feel free to print, email and share them with your friends and family.
Teeth Whitening - Brighter, lighter, whiter...
The subconscious impact of a white smile is radiant health, happiness, warmth and invitation. Today brighter, lighter, whiter teeth have become a norm. Tooth whitening by bleaching is a successful, conservative, relatively inexpensive and safe alternative... Read Article
Smile Design Enhanced with Porcelain Veneers
In part two of the series on Smile Design, Dear Doctor takes an in-depth look at Porcelain Veneers, a superior yet minimally invasive technique for smile enhancement. We'll explain not only when they're appropriate, but also when they're not... Read Article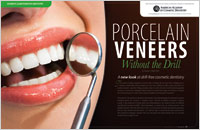 Porcelain Veneers – Without A Drill
No drilling — reality or ridiculous? A no-drill technique requires a second look, as new materials and concepts have created new esthetic possibilities. Reactions and opinions among dentists have ranged from absolute disbelief to moderate acceptance. This article gives hope and reasons for patients to get excited about this conservative drill-free cosmetic technique... Read Article
Cosmetic Dentistry - A Time For Change
Join us as we review the myriad of possibilities available to you for cosmetic dental change. But the biggest part is not just how your smile looks, it's how you feel when you show it... Read Article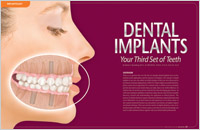 Dental Implants - Your Third Set of Teeth
A discovery fifty years ago paved the way for one of dentistry's most exciting, natural looking and successful tooth replacement systems. Learn how dental implants might just possibly change your life... Read Article
What is Tooth Decay? - And How to Prevent It
Tooth Decay is an infection, and many people don't realize that it is preventable. This article is the first in a series about tooth decay, perhaps the number one reason children and adults lose teeth during their lifetime. Explore the causes of tooth decay, its prevention and the relationship to bacteria, sugars and acids... Read Article
Tooth Decay – How To Assess Your Risk
Don't wait for cavities to occur and then have them fixed — stop them before they start. Modern dentistry is moving towards an approach to managing tooth decay that is evidence-based — on years of accumulated, systematic, and valid scientific research. This article discusses what you need to know to assess your risk and change the conditions that lead to decay... Read Article
The Natural Beauty of Tooth Colored Fillings
The public's demand for aesthetic tooth colored (metal free) restorations (fillings) together with the dental profession's desire to preserve as much natural tooth structure as possible, has led to the development of special "adhesive" tooth colored restorations... Read Article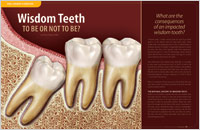 Wisdom Teeth – To Be Or Not To Be
Facts you need to know about these curiously named teeth. They are so-called because a moderate amount of wisdom is supposedly achieved at about the same time these teeth typically make their appearance. This article will review the problems associated with wisdom teeth and whether or not they should be removed... Read Article
Oral Hygiene - Dental Health for Life
The best tools for maintaining your oral health and minimizing dental problems are a quality toothbrush, toothpaste, a roll of dental floss, approved mouthwash and good diet. This article cuts through the confusion with a winning game plan for oral health... Read Article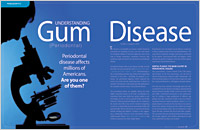 Understanding Gum (Periodontal) Disease
Have your gums ever bled when you brushed or flossed? This most commonly overlooked simple sign may be the start of silent (periodontal) disease leading to tooth loss. Learn what you can do to prevent this problem and keep your teeth for life... Read Article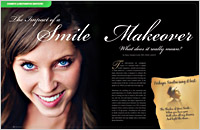 The Impact of a Smile Makeover
Americans are catching on to the emotional and social importance of a healthy, beautiful smile, and they're seeking out ways to improve their smiles. Learn why and what a change could mean for you...Read Article
"I'd Rather Have a Root Canal..."
A common misconception is demystified. Get the real story about this much maligned procedure that eases pain, rather than causes it... Read Article
Oral Cancer
This article may just save your life. Learn how to notice any unusual lesions (sores or ulcers) anywhere in your mouth that do not heal within two-three weeks. Early detection is key... Read Article
Implant Overdentures for the Lower Jaw
Implant overdentures represent a major change for the dental profession and the public. The lower jaw two-implant overdenture may be considered a more appropriate starting point over regular dentures... Read Article
TMD – The Great Impostor
This "chameleon" of dental disorders manifests in a variety of ways, including joint pain, sinusitus, ear pain, tooth and headaches. The causes of TMD, its signs and symptoms and what can be done to treat this common disorder... Read Article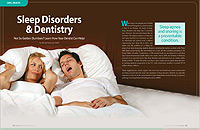 Sleep Disorders and Dentistry
If my partner snores loudly, should I be concerned and what can be done to alleviate the problem? Why does my sleeping partner have lapses in breathing while sleeping and is it dangerous? Why do I wake up exhausted even though I get up to 10 hours sleep at night? The answers to these and more questions and how dentistry can help all revealed within... Read Article
About Dear Doctor Dentistry Magazine
Dear Doctor - Dentistry & Oral Health is a dental magazine written for the education of the general public. Dear Doctor provides information that is accurate, authoritative, and trustworthy on all aspects of dentistry and oral health including teeth whitening, porcelain veneers, dental implants, cosmetic dentistry, smile makeovers and more.
Copyright © 2013 Dear Doctor, Inc. All rights reserved. Copying or reproducing any text or graphics is strictly prohibited.
Certain kinds of medications can have an adverse effect on your teeth.

Long ago, children exposed to tetracycline developed tooth problems, including discoloration, later in life. The medication fell out of use, however, and is not an issue today.

The best precaution is to ask your family physician if any medications he or she has prescribed can have a detrimental effect on your teeth or other oral structures.

A condition called dry mouth is commonly associated with certain medications, including antihistamines, diuretics, decongestants and pain killers. People with medical conditions, such as an eating disorder or diabetes, are often plagued by dry mouth. Other causes are related to aging (including rheumatoid arthritis), and compromised immune systems. Garlic and tobacco use are other known culprits.

Dry mouth occurs when saliva production drops. Saliva is one of your body's natural defenses against plaque because it acts to rinse your mouth of cavity-causing bacteria and other harmful materials.

Some of the less alarming results of dry mouth include bad breath. But dry mouth can lead to more serious problems, including burning tongue syndrome, a painful condition caused by lack of moisture on the tongue.

If dry mouth isn't readily apparent, you may experience other conditions that dry mouth can cause, including an overly sensitive tongue, chronic thirst or even difficulty in speaking.
Heart Disease
Poor dental hygiene can cause a host of problems outside your mouth—including your heart.

Medical research has uncovered a definitive link between heart disease and certain kinds of oral infections such as periodontal disease. Some have even suggested that gum disease may be as dangerous as or more dangerous than other factors such as tobacco use.

A condition called chronic periodontitis, or persistent gum disease, has been linked to cardiovascular problems by medical researchers.

In short, infections and harmful bacteria in your mouth can spread through the bloodstream to your liver, which produces harmful proteins that can lead to systemic cardiac problems. That's why it's critical to practice good oral hygiene to keep infections at bay—this includes a daily regimen of brushing, flossing and rinsing.
Antibiotic Prophylaxis
In some cases, patients with compromised immune systems or who fear an infection from a dental procedure may take antibiotics before visiting the dentist.

It is possible for bacteria from your mouth to enter your bloodstream during a dental procedure in which tissues are cut or bleeding occurs. A healthy immune system will normally fight such bacteria before they result in an infection.

However, certain cardiovascular conditions in patients with weakened hearts could be at risk for an infection or heart muscle inflammation (bacterial endocarditis) resulting from a dental procedure.

Patients with heart conditions (including weakened heart valves) are strongly advised to inform our office before undergoing any dental procedure. The proper antibiotic will prevent any unnecessary complications.